Aleph.im coin has a symbol of ALEPH. Are you thinking about buying it or not? Is it a good coin or not? Does it fulfill any utility or not? This shall answer your questions.
Aleph is a minable coin just like bitcion and uses PoW (proof of work) system.
It has a current supply of 182,631,899.20 ALEPH while max supply will be 500,000,000.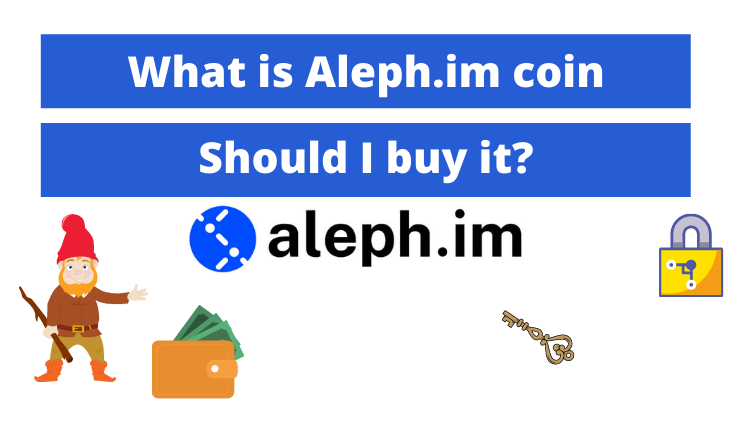 It is among the penny coins so far. It has 22,763 followers on coinmarketcap, ethereum has 2.4 million, just to compare.
You can buy ALEPH on kucoin.
It is an open-source crosschain network using decentralized database for file storage, computing, and a decentralized identity (DID) framework.
Its core mission is to help decentralized apps and protocols achieve fully decentralized architecture.
Aleph.im is said to be AWS or firebase of decentralized ecosystem.
What makes ALEPH.im different
Mixture of onchain and offchain decentralized technologies
Great thing is it is already connected with leading blockchain projects such as polkadot, binancechain, cosmos, ethereum.
ShuttleFlow Cross-Chain Asset Bridge
It implements channel mechanism that allows sharding. Think it as dedicated cloud clusters.
Capable of processing 3,000–6,000 transactions per second (TPS)
Products already built on Aleph
Staking DApp used for staking
Personal Storage DApp to keep files and data
Blogging DApp (testnet)
Web host The website of aleph.im is hosted on Aleph network itself
Buy Aleph or not?
The tech being made and used is excellent, depending on adaption from the users be it developers or actual users will also decide its overall value. Consider it as 10/100 of portfolio. Looks to be a long term holding but keep an eye on developments.
Tech: Excellent
HDOL: Positive
Team: Good
Use cases: Multiple
Want to explore crypto opportunities with me? Only 20$/12 months. Get email/telegram updates. ETH/BNB accepted 0x67C25Bd1A93a34e45cE5C7Cb8a81647DDc950119 then send message through contact form. Disclaimer: DYOR (do your own research).